Georgian church against Kazantip festival
By Ana Robakidze
Tuesday, July 29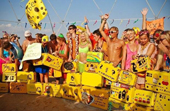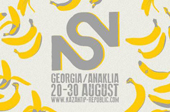 Kazantip, one of the largest electronic music festivals in the former Soviet Union, which was held in Crimea, Ukraine for many years, is planned to take place in Georgia. Due to the Russian occupation of Crimea, festival organizers decided to move the event to Anaklia, a Black Sea resort in Georgia.
The festival which has "a strong feeling of independence" as its main credo, is opposed by a large group of Georgians. They believe the festival is wrong, as it has always been famous for its loose attitude to drug use and sexual promiscuity.
Residents of Anaklia, which itself is a small settlement, have various opinions about the festival. Many do not favor the event. However, they still prefer it to be held, as the festival and its guests will bring good income to the locals, who have spent quite a large amount of money on renovating their houses to rent them out in summer. Speaking to the media, Anaklia residents said they hope the festival organizers will have a strict drug control policy and the event will take place without any major incidents.
The festival is strongly opposed by the Georgian Patriarchate. The official statement released by the Patriarchate says that participation and support of the KaZantip festival in any form will bring disastrous consequences to the country. The Georgian church does not believe the statements made by the head of the tourism department, Giorgi Sigua, who claims there will be no drugs and free sex during Kazantip. Instead he says, tourists will enjoy quality music.
According to the Patriarchate, KaZantip attracts many tourists from all over the world because of drugs and mass orgies and not because cultural events and quality music. Also, the festival is scheduled to take place between 20-30 August, which is a fasting period for Orthodox-Christians in Georgia and the church believes festivals similar to Kazantip should not be held in this period.
"In our opinion, our society has not voted for the development of our country in this direction. Georgia is a country of ancient culture and it does not promote promiscuity. Participation and support of the KaZantip festival in any form will bring disastrous consequences to the country and individuals," the Patriarchate says.