Three people dead after a flood in West Georgia
Tuesday, July 29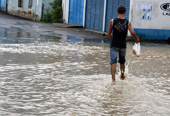 Three Georgians died yesterday after a flood in the west Georgian region of Vani. According to the region's Governor Zaza Khurtsidze, the swollen Kvinistskali River washed away a bridge and a car with five passengers in it. Out of the five people, three have drowned and two survived.
"The rescuers have found one of the deceased yesterday, and two others were discovered today," Khurtsidze noted. Minister of Finance Nodar Khaduri has arrived at the scene of the accident and ordered a state commission to be set-up, which will determine the scale of the damage.
"We are very sad because of this unfortunate disaster. All expenses for the funeral will be covered by the state. Moreover, we are starting to count the damage that was inflicted on the population, and we will try to compensate everything," the Minister said. Heavy rain and flood affected about twelve families in an Amagleba village, Vani Region. Therefore, bed weather and heavy rain damaged Georgia's another western region Guria.Last night there was a strong flood in Chokhatauri municipality, head of press office of Guria's Governor Nino Lemonjava said. "Locals are affected by the flood, ground floors of homes and agricultural lands are swamps. There are no casualties. Respective services were working at the place all night," Lemonjava said. The disaster also damaged the village Nabeglavi, where famous Georgian mineral water is produced. A factory of "Nabeglavi" was stopped for a several hours. Lomjaria said that last night a landslide blocked the road of Summer Resort Bakhmaro as well.
In total, the flood has destroyed three bridges and caused a landslide on the Sairme-Udabno highway, blocking the traffic on it.
The Ministry of Regional Development and Infrastructure started renovation works yesterday and partially restored traffic on the road. The traffic will be fully restored in the near future.
(agenda.ge)