How to treat Russia
By Messenger Staff
Tuesday, July 29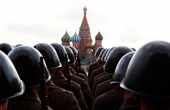 Relations with Russia have caused a constant rivalry between the Georgian Dream coalition and The United National Movement. The UNM is demanding that the government make a strong assessment towards Russia, when the coalition obviously intends to refrain from such negative rhetoric, speaking about constructive dialogue and the restoration of relations with Russia.
Prior to the parliamentary elections of 2012, the UNM even claimed that a pro-Russian force, meaning the Georgian Dream was opposing them. Such claims are still on the agenda. For instance, former President Mikheil Saakashvili states that the coalition founder Bidzina Ivanishvili is an oligarch who serves Putin's interests.
However, it is quite hard to tag the coalition as a pro-Russian force. The coalition is conforming through its words and actions that it is pro-Western. Under the new government, Georgia has signed the Association Agreement with the EU and the country is still striving for NATO membership.
However, at the same time, the Georgian Dream leadership is trying to regulate relations with the Russian Federation and this entails having a measured approach towards Russia.
The UNM believes this approach is erroneous. They claim that Georgia should condemn Russian actions in Ukraine, the downing of the Malaysian passenger plane and speak out about the occupation of Georgian territory. According to them, in the case if the government will state that it has no problems with Russia, the international community will not assist Georgia in its de-occupation policy.
The UNM claims that a "light" policy with Russia will bring no positive outcomes, as Russia will keep on occupying our territories anyway, and placing pressure on the government as soon as the Ukrainian problems are solved.
On its behalf, the coalition states that positive relations with Russia have already brought benefits in terms of economics and agriculture. They also state that Russia has also decreased anti-Georgian statements and cut back on blocking Georgia's European path.
Georgian Dream leaders state that the restoration of diplomatic relations with Russia would be a hard process. However, they admit that the current position of the government is right for avoiding additional confrontation with Russia, as the previous confrontations have brought too many slowdowns for the country.
Just speaking is always easier, especially when both sides might state some truth. In a nutshell: Georgia's policy should be pragmatic and principled at the same time. However, keeping the balance is the most difficult thing.