Defence Minister Monitored West Operative Command
Thursday, July 31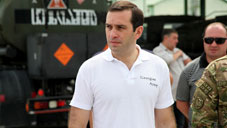 Minister of Defence of Georgia Irakli Alasania continues monitoring of the military bases in the Western Georgia. Irakli Alasania visited the II and III Infantry Brigades and Artillery Brigade located in Khoni. Defence Minister inspected the ongoing construction and repairing works of infrastructure of the military bases under the West Operative Command. He was briefed about the current activities and scheduled works.
"We are constantly testing the combat readiness of our military units and observing the ongoing infrastructural projects. We should create all necessary conditions for our soldiers, sergeants and officers. They should have appropriate environment in order to defend our country and carry out their tasks. The monitoring was very fruitful. Infrastructural projects are implemented efficiently, though I have some observations. I hope that all my remarks will be considered and eradicated in the nearest future. Yesterday we welcomed home our military servicemen from Afghanistan. They will share their experience gained during ISAF mission to other military servicemen. I would say that the combat readiness of our troops is high and our military servicemen are very motivated," declared Irakli Alasania.
Deputy Defence Minister Aleksi Batiashvili, Deputy Chief of General Staff of GAF Colonel Giorgi Kbiltsetskhlashvili, Army Logistic Support Commander LTC Giorgi Kereselidze and Commander of the West Operative Command Colonel Mikheil Sadunishvili accompanied Defence Minister during the monitoring process.
Minister of Defence of Georgia frequently visits the military bases to observe the existing situation and conditions of the military personnel. He will continue monitoring of infrastructural projects in the future as well.