Meeting with Canadian Diplomat
Thursday, July 31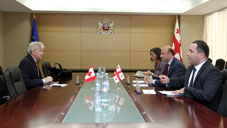 Deputy Defence Minister Mikheil Darchiashvili held meeting with the Ambassador Plenipotentiary and Extraordinary of Canada to Georgia (with residence in Ankara), Mr John Holmes.
Upcoming NATO Summit was the main topic of the meeting. Ambassador John Holmes reaffirmed Canadian support for Georgia's Euro-Atlantic integration. The sides also discussed the ongoing defence cooperation between Canada and Georgia.
Regional security issue was one of the topics at the meeting. Mikheil Darchiashvili referred to Georgia's contribution to international missions and future plans. Deputy defence Minister highlighted professionalism and high level of combat readiness of Georgian military as well.