Football clash raises questions about third party provocateur
By Messenger Staff
Monday, August 4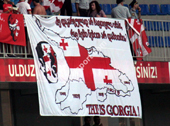 On July 31, during the third qualifying round of the UFFA European League football match in Baku between the local Neftchi and Chikhura from the Georgian town of Sachkhere, a clash took place.
The match ended 0-0. However, some Georgian fans presented a banner during the match that showed a map of Georgia where certain parts of Azeri territory were included. This of course caused Azeri spectators to become irritated and a clash ensued.
The clash became fierce after the game was over. Police tried to interfere and calm the situation. During the process several fans and some journalists were detained and taken to the police station, where operators were forced to delete the videos covering the incident. After the process, the journalists were released. The Georgian embassy in Baku interfered in the development. The Azerbaijani Ministry of Internal Affairs made a statement saying that due to their involvement, a serious confrontation was avoided. Most probably, the process was provoked by someone that wanted to destroy the friendly relations between Georgia and Azerbaijan.
In addition, on August 1 new regulations came to force in Azerbaijan. According to these amendments, the country will not allow cars made before 2004 into the country; the amendment was carried out under the Euro 4 standard Azerbaijan has joined recently. Through the regulation, cars will not be transferred to Azerbaijan that do not meet the above mentioned criteria. The process has created obstacles for Georgian dealers who were engaged in re-exporting cars to Azerbaijan.
Both these incidents eventually resulted in a telephone conversation between the two Presidents, Ilham Aliev and Giorgi Margvelashvili. Both of them highlighted that nothing will influence the friendly relations between the two countries. Georgian Prime Minister Irakli Gharibashvili has also commented on the issue, stressing the importance of the friendly partnership between Georgia and Azerbaijan.
An urgent answer as to who was responsible for the football provocation might be very simple. Some analysts suggest it could be Russia. This country will benefit in the case of a confrontation between Georgia and Azerbaijan.
However, according to them, there are some forces inside Georgia as well that are trying to create problems for the current Georgian administration, such as the United National Movement. Georgia's former President Mikheil Saakashvili commenting the incident, mentioned that the fact was caused due to the shortsighted policy of the current state administration of Georgia.
Thus, this situation must be investigated properly by Georgian law-enforcement to find out the individuals behind the provocation, especially when one more game is to take place between the same teams in Tbilisi on August 7.