Georgia and EU sanctions against Russia
By Messenger Staff
Monday, August 11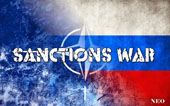 The United National Movement is demanding that the Georgian government join the sanctions adopted by the European Union against Russia. They believe that by refraining from the sanctions, Georgia will be isolated by its western allies. They also claim that standing aside will indicate less support for Ukraine.
The Georgian Dream challenges such an approach. Georgia's Foreign Minister Maia Panjikidze stated that Tbilisi cannot join the EU sanctions, as Georgia is not a member of the European Union. However, she admitted that Georgia welcomes all actions that aim at ending the crisis in Ukraine.
Representatives of the parliamentary minority are not satisfied with such an explanation. According to them, adopting economic sanctions against Russia would illustrate that Georgia is standing by the United States and the EU. Parliamentary minority member Davit Bakradze stresses that the current Georgian leadership should specify whether the country stands-with Georgia's strategic partners, or with Russia.
Georgia meanwhile wants to maintain a balanced position: on the one hand, Georgian officials condemn the Ukrainian developments, the occupation of Crimea and Russian actions in other parts of the country. On the other hand, the Georgian Dream is trying to keep balance with Russia. Georgia is afraid of Russia, as Georgia's allies the United States and Europe have said multiple times that neither NATO nor the US intend to get involved in any kind of direct confrontation with Russia in the case of Russian aggression.
Foreign Minister Maia Panjikidze stated that Georgian officials have active contacts with their Ukrainian counterparts in support of all the moves taken by the Ukrainian government against Russia.