Kazakhstan intends to increase wheat export
Tuesday, August 12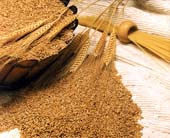 The export potential of wheat is estimated at 8-9 million tons in Kazakhstan, chairman of the state inspection committee in the agro-industrial complex of the Kazakh Ministry of Agriculture Saktash Khasenov said at a press-conference on Aug. 8.
"The expected gross harvest (harvest of the current year) is about 17 million tons, carryover - 4 million tons, that is, the export potential - 8-9 million tons," Khasenov added.
"Kazakhstan's grain sales markets remain traditional - Azerbaijan, Iran and Central Asia," he said.
"There is an agreement with China to increase supplies," he added. "Moreover, the supply to South-East Asia by transit through China may be increased."
(trend.az)