Georgia's annual inflation rate increases
Tuesday, August 12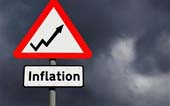 Georgia's annual inflation rate increased 0.8 percent last month as the price of alcohol, cigarettes, healthcare services and other basic needs increased.
Latest data from state statistics office Geostat revealed Georgia's annual inflation rate was 2.8 percent in July, up from 2 percent in June.
On a monthly basis, there was a 0.6 percent deflation in July.
Analysts believed the increased costs of food, alcohol and non-alcohol beverages, cigarettes, healthcare and housing, water, electricity, gas and other fuels had the most significant impact on the annual inflation rate.
The cost of food and non-alcohol beverages in July 2014 was 3.4 percent higher than in June 2013. Similarly, the cost of alcoholic drinks and cigarettes increased by 7.1 percent year-on-year (y/y).
A significant price rise was observed in healthcare services, which saw an increase of 4.7 percent y/y, with particular price rises for hospital services, medical products and appliances. Furthermore, last month figures showed transport costs had increased y/y by 3.6 percent.
On the other hand, the cost of clothing and footwear significantly declined in the past 12 months by 15.1 percent in the reported period.
(agenda.ge)