Government prepares amendments to the bill on security and defense
By Ana Robakidze
Wednesday, August 20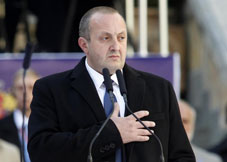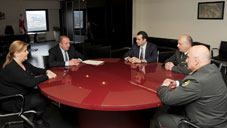 The Georgian government plans to introduce amendments to the law on security and defense. According to Prime Minister Irakli Gharibashvili only technical amendments will be introduced to the bill and no and structural changes, or as many believed restructuring the Security Council is planned.
"The Security Council, as well as other state bodies operates within the new constitution. No kind of structural changes are planned to be executed within these bodies. As for the amendments to the law, they will be of technical nature," PM stated, adding that it is not yet decided whether the amendment to the law is going to be made or not.
According to the Ministry of Defense the amendments comply with the law in the constitution. The Secretary of the Ministry, Mikheil Darchiashvili explained that speculation that the amended law will expand the rights of the government at the expense of shrinking the rights of the president is wrong.
"A number of changes are being scrutinized. Let's wait for the Parliamentary Comities where intensive debates are expected to be held regarding this issue."
According to Darchiashvili in the case the draft is approved by the parliament Chief of the Staffs will become accountable to the President.
The Secretary of the Georgian Parliament, Shalva Tadumadze says it is natural that some regulations are being amended by the Georgian government, as the law has to be fully compatible with the new constitution. Commenting on the amendments offered by the Defense Ministry, Tadumadze said over 150 legal acts have been amended since the new constitution was adopted, and the law on state security and defense is not an exception.
"The necessity for taking this step (amending the legal acts) has emerged due to adoption of the new constitution. Changes have been introduced in around 150 legal acts…The allegation that the President's authority is being shrunk is not true. The amendments are of a purely technical nature." Tadumadze stated.
The draft will be studied by the Parliament Committee of Security and Defense in near future, before it is sent to be discussed during the parliament session.