Trilateral Meeting in Nakhchivan
Thursday, August 21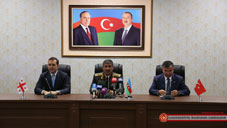 The trilateral meeting among the Georgian, Azeri and Turkish Defence Ministers was held in Nakhchivan, Azerbaijan. Irakli Alasania, Zakir Hasanov and Ismet Y?lmaz discussed the prospects of trilateral cooperation in defence sphere and regional security issues. The sides focused on joint efforts to protect strategic energy-transport infrastructure of the region. Defence Ministers outlined that strengthened cooperation among Georgia, Azerbaijan and Turkey will be aimed at protecting national security of the countries.
"It is a pleasure to be here in Nakhchivan, Azerbaijan and to start very important, crucially important cooperation in trilateral format with the strategic partners of Georgia which are Azerbaijan and Turkey. We had very fruitful discussions on security and defence issues related to the critical infrastructure that is shared by these three countries and which are very integral to the economic development and well-being of our nations. Georgia is very fortunate to have such great neighbors and strategic allies like Azerbaijan and Turkey. And these challenging times from the security standpoint in the wider region we need to cooperate more closely and we need to be very tightly in touch with each other to defend the critical infrastructure that is very integral to our development. This practical cooperation is intended solely to promote peace, stability and security in the region. And at the same time for everybody to see that these relations are to promote each other's security, economic development in light of all national interests. We fully support the territorial integrity of each other, sovereignty and we intend to do everything possible to peacefully resolve the conflicts that are in this region,"- declared Defence Minister at the press conference after the meeting.
In the framework of the official visit to Azerbaijan Defence Minister met with his Azeri colleague General-Colonel Zakir Hasanov and the Chairman of Nakhchivan Supreme Assembly Vasif Talibov.