Defence Minister on Board USS Vella Gulf
Thursday, August 21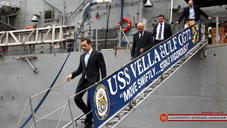 Minister of Defence of Georgia Irakli Alasania was on board of the USS Vella Gulf, cruiser from the United States' Navy 6th Fleet. The crew showed the Defence Minister around the ship.
Irakli Alasania outlined the significance of the visit of the USS Vella Gulf: "It is very important not only for Georgia but for the whole region that such ship with such armament and defence capabilities entered the Black Sea. This is the third port call and this is one more declaration that United States of America will be supporter of our region and Georgia's security. We are developing our cooperation in bilateral format and at the upcoming NATO Summit we expect to have more capabilities to defend our country. This is another step towards our regional security and we are very grateful to the United States for this. I am sure we will see more joint exercises and visits of ships of NATO and the United States."
The USS Vella Gulf (CG 72), a Ticonderoga-class guided missile cruiser from the United States' Navy 6th Fleet, made a port visit in Batumi on August 18 and will stay in the territorial waters of Georgia till August 20. The Vella Gulf's visit reaffirms the United States' commitment to strengthening ties with NATO allies and partners like Georgia, while working toward mutual goals of promoting peace and stability in the Black Sea region.
The Vella Gulf's home port is in Norfolk Virginia, and is deployed in a multi-mission role in the U.S. 6th Fleet area of operations to contribute to regional maritime security, conduct bilateral and multilateral training missions, and to support NATO operations and deployments throughout the region.
The U.S. Navy routinely operates ships in the Black Sea consistent with the Montreux Convention and International Law.