Race to Support Wounded Warriors
Thursday, August 21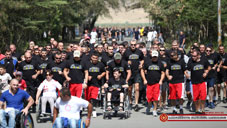 A race to support Georgian Wounded Warriors has been held at Lisi Lake. A race was organized by the Ministry of Defence of Georgia and to supporter Georgian Wounded Warriors participating in Invictus Games to be held in London this September. Georgian Defence Minister Irakli Alasania and Chief of General Staff Maj-Gen Vakhtang Kapanadze ran alongside the Wounded Warriors, participating in Invictus Games and other injured servicemen, who were treated with latest technology prosthetic limbs. Among those participating, there were British Defence Attache Lieutenant Colonel, Nick Wilkes, Deputy British Ambassador Jon Geddes, Paralympic athletes, Friends of the Army and other supporters.
The Invictus Games will take place in London on September 10 – 14. The idea for the games and the overall leader of the event is Prince Harry. The UK Ministry of Defence is providing organizational support for the games. The goal of the tournament is to enhance the combat spirit and motivation of the injured servicemen, as well as to use sports activities in their rehabilitation process.
Six Georgian warriors wounded in action during combat operations will compete together with around 400 other wounded military servicemen from 14 countries. The Georgian soldiers are training in different types of sport for the Invictus Games on a daily basis.
Invictus Games provides a good opportunity for society to demonstrate their support and solidarity towards all of the warriors who have been heavily wounded in different combat operations and international missions.
Partner Company that supports the Georgian Wounded Warriors in "Invictus Games" is GT Motors.