Rally against Kazantip
By Mariam Mchedlidze
Thursday, August 21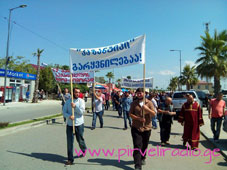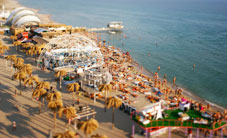 The Orthodox Mother's Union of Georgia and those opposing the Kazantip Music Festival held a rally in front of the former Parliament building on August 20. They demanded that the government not to sign a 10 year contract with the "Kazantip Republic". The people, as well Orthodox priests claim that the festival is "immoral" and degrades the country's image and traditions.
KaZantip is one of the largest electronic music festivals in the former Soviet Union and attracts thousands of youth every year for a week of music and dancing. Accommodations are located on or near the festival grounds. Despite a stated anti-drug policy, substance abuse has been a recurring problem. It used to be held in Crimea, but was moved to Anaklia following the Russian annexation of the peninsula.
According to priest David Kvlividze, the government is mistaken if it believes that Georgia will flourish by prostitution propaganda. He stated that the Kazantip festival does nothing but deprave society with its orgies and drug-use. He stresses that the government should not deal with the Kazantip chairperson who abuses the Georgian church and religious traditions.
Soloist from the (locally) famous musical group Shini, Zaza Miminoshvili, also was among the people against the Kazantip festival. He thinks that electronic music is just a mask, hiding the real, immoral nature of the festival.
"I am informed of this festival and consider myself obliged to be here. I believe that the festival appears as an absolute depravity accompanied by music. I do not wish my children to be the part of this," he stated.
One of the Kazantip supporters Mariam Tsiklauri counter protested. She said that she could see nothing unacceptable about the festival.
The participants of the rally were annoyed by Tsiklauri's statement and called her a provocateur.
Responding to the rallies, the head of the Kazantip festival Nikita Marshunok states that the festival has nothing in common with drugs and orgies.
"I have a feeling that they have no idea what the Kazantip festival really is, that's why I want to talk to them. People need to calm down, as this is just an electronic festival; nothing bad is going to happen here," Marshunok said.