Raul Khajimba becomes the fourth Abkhazian president
By Ana Robakidze
Tuesday, August 26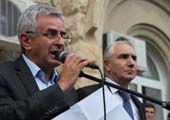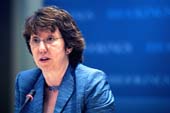 The Central Election Commission (CEC) of Georgia's breakaway region of Abkhazia released early results of its presidential elections held on August 24th and announced that the former KGB officer and opposition leader Raul Khajimba has won the election. Khajimba, who received around 51% of the votes, will become the fourth de-facto president of the separatist region. Aslan Bzhania, the former head of the state security service became the runner-up with 36% of the votes received.
The results of the election which was condemned by the Georgian government will not be internationally recognized. On August 25th, Catherine Ashton, the spokesperson of the High Representative of the Union for Foreign Affairs & Security Policy and Vice-President of the European Commission, released a statement to confirm that the EU does not recognize the Abkhazian election.
"The European Union supports the territorial integrity and sovereignty of Georgia, as recognized by international law. In view of reports about the presidential election in the Georgian breakaway region of Abkhazia on 24 August, we recall that the European Union does not recognize the constitutional and legal framework within which these elections have taken place," Ashton states.
A similar statement was released by the Ministry of Foreign Affairs of Azerbaijan which reiterated the country's support for the sovereignty and territorial integrity of Georgia and declares that Azerbaijan does not recognize the election conducted in Abkhazia, Georgia on August 24th.
The Georgian government does not recognize the outcome of the Abkhazian presidential elections. However, according to the State Minister for Reconciliation and Civil Equality of Georgia Paata Zakareishvili the government is ready to negotiate with any Abkhazian leader.
"We don't recognize the outcome of the presidential election, however, voter turnout was high and it is important for us. We are ready to have a relationship with any leader of Abkhazian society, because we believe that the situation will not be changed substantially, they will continue their policy – Russia will strengthen control over the region," Zakareishvili said on August 25th. However, Khajimba is not going to improve relations with Georgia. He insists on the absolute independence of Abkhazia and even plans to distance the region from its only supporter, Russia. Speaking to the media, the new-de-facto president said he plans to consolidate Abkhazian society and reform the political system.