Chinese companies invited to participate in construction of port in western Georgia
Tuesday, August 26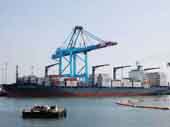 The Great Silk Road gives Georgia the opportunity to develop its economy, trade, make new connections, to better represent their traditions, investment and tourism potential, which is very important for the welfare of the people, Prime Minister of Georgia Irakli Garibashvili said at a meeting with members of the "Great Silk Road" project.
He said that in the XXI century Georgia had the opportunity to fulfill its historic mission again.
"Today, I once again had the opportunity to note the historical role and mission of Georgia as a country connecting the two geo-political areas, as it is situated at the crossroads of East and West", he noted. "Two civilizations existed side by side, and trade and cultural ties between them took place along the Silk Road," he said. "Georgia, the intersection of these two worlds, was an integral part of the Silk Road," Garibashvili concluded.
The prime minister stressed that the Georgian government attaches great importance to the development of transit potential of the country.
In addition, Garibashvili noted the value of the Association Agreement with the EU, signed by Georgia, and expressed hope that this step helps to attract investments in the country.
In his speech, the Prime Minister suggested Chinese companies to participate in the construction of a seaport in Anaklia.
"We welcome and will render full support to new investors, who came to the Georgian market," he stressed.
(Trend.az)