Armenia and Georgia started to give more importance to one another – analyst
Tuesday, August 26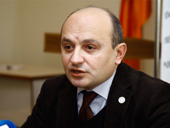 The Georgian PM's visit to Armenia is important before when Armenia will sign the agreement on Eurasian Economic Union accession, whereas Georgia will join the European Union Association Agreement, analyst Stiopa Safaryan told Armenian News-NEWS.am.
He explained that, in this case, it is important to formulate clear positions on several matters.
"The statements by the Armenian and the Georgian sides show that they stand ready to solve the existing problems and strengthen the good bilateral relations," Safaryan noted.
As per the analyst, however, it is bad that Armenia and Georgia only recently have started to give more importance to one another.
"It's good that the sides realized, although with delay, that against the backdrop of the tension over the two integration plans, it's very important that they express a clear position in connection with peaceful neighborliness and mutually beneficial cooperation," Safaryan stressed.
In his conviction, considering the statements that were made, the Georgia PM's visit to Armenia was important from the political perspective.
"It remains only to follow their implementation and expand the Armenian-Georgian cooperation agenda," Stiopa Safaryan concluded.
(News.am)