Georgian government is ready to talk to Khajimba
By Ana Robakidze
Thursday, August 28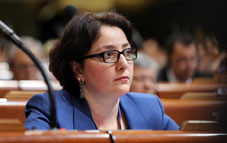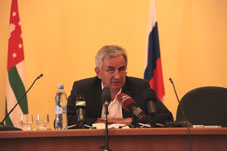 The Georgian government does not recognize the outcome of the recent presidential elections held in the break-away region of Abkhazia. However, it is ready to start talks with the new leadership of the region. The government's position was voice by the State Minister for Reconciliation and Civil Equality of Georgia Paata Zakareishvili earlier this week.
One of the leaders of the Georgian Dream party and Council of Europe representative MP Tinatin Khidasheli approves the government's policy and says Georgia is ready to start negotiation with any de-facto leader to improve relations with the separatist region.
Speaking at the press-conference on August 26th, Khidasheli said Abkhazian elections cannot be considered legitimate and it is unconstitutional, but as there is no alternative to dialogue in the conflict resolution process, the authorities will negotiate with the new de-facto president Raul Khajimba.
The MP also explained how the government sees the status of Khajimba and said he thought he cannot be the legitimate president of the region, he still is the current leader of the people leaving in Abkhazia. Therefore, Khajimba and his administration can be presented as a party in a dialogue of ay format.
According to Khidasheli the belief that Georgia has to speak to Russia in order to solve the conflicts is simply an illusion.
"Georgia does not have the luxury of choosing with whom to talk to." Khidasheli said, adding that the government should talk to the people like Hajimba, who has received some kind of legitimacy, like being elected by the population of the region.
Khajimba who became the de-facto president of Abkhazia after three unsuccessful attempts, has big plans for future and is going to fully review Abkhazian political system and transfer some powers from the president to the parliament. Though, he is one of the most pro-Russian leaders, Khajimba has never hidden his dissatisfaction with Abkhazian economical dependence on Russian money. Therefore he hopes to negotiate a new agreement with Moscow, to take Abkhazia into the Eurasian Economic Union, or at least conclude an association agreement with the organization. He also numerously pointed out in his interviews, that any conversation about returning Abkhazia within Georgina borders is pointless.