EU reacts as situation escalates in Ukraine
By Ana Robakidze
Monday, September 1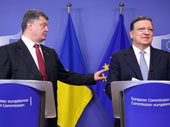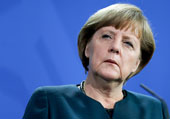 EU leaders call on Russia to immediately withdraw all its military assets and forces from Ukraine. On August 30, at the Special meeting of the European Council the 28 nation-bloc decided to give Moscow one week before new sanctions are imposed.
"If Russia continues to escalate the crisis it will come with a high cost. It's time for everyone to get down to the business of peace-making. It is not too late, but time is quickly running out," EU Commission President Jose Manuel Barroso said in Brussels.
Ukrainian President Petro Poroshenko, briefed the leaders at the beginning of the council meeting and said military aggression and terror taking place in his country had to be met with a strong response. The situation in Ukraine has very much escalated over the last few days and Poroshenko fears failing to de-escalate the situation could easily lead to a full-scale war.
"Thousands of foreign troops and hundreds of foreign tanks are now on the territory of Ukraine…There is a very high risk that threatens not only the peace and stability for Ukraine, but for the whole of Europe." Poroshenko said at the briefing in Brussels.
The Georgian government has also reacted to the recent escalation in Ukraine. President Giorgi Margvelashvili released an official statement on August 28 and said Ukraine's territorial integrity is under threat.
"We are extremely concerned about latest developments in Ukraine. Today, another European country`s territorial integrity is facing a threat. It is not acceptable to change the boundaries of states through external intervention and military aggression.
Once again, I reaffirm our strong support for the sovereignty and territorial integrity of Ukraine and I call for the International community though a joint effort, to prevent a new war in Europe," the president said.
Georgia will provide Ukraine with humanitarian aid. Georgian Health Minister Davit Sergeenko visited Kiev to meet his colleagues and introduce a joint assistance plan. Tbilisi is ready to send doctors and medication to Ukraine, as well as transport the wounded to Georgia for medical treatment.
The Georgian Embassy in Ukraine is currently trying to reveal whether there were Georgian citizens among those captured by pro-Russian separatists and exploited in a parade in the Donetsk region on August 24. Two Georgian names Aleksandre Tsiklauri and Iuri Bukia appeared on the list of soldiers who were forced to march in Donetsk streets as military prisoners. The Georgian embassy confirms that several Georgian volunteers are fighting alongside Ukrainians. The embassy is trying to find out whether Tsiklauri and Bukia hold Georgian citizenship or not.