Georgia-Russia road reopens in Dariali
Monday, September 1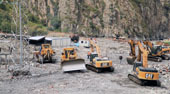 A major road through the Caucasus connecting Georgia to Russia has reopened after being blocked by a landslide for about 10 days.
Georgia's Prime Minister Irakli Garibashvili announced the reopening of the road following his visit to the site on August 30.
Vehicles will be allowed to travel along the road during the day but restrictions will be enforced from the Larsi Custom House from 18:00 until 07:00 because of security measures.
Vehicle movement will be coordinated by patrol police.
Traffic has been prohibited along the Georgian Military Road that weaves alongside the Tergi River since the August 20 landslide. Work immediately began to so the road could reopen as soon as possible.
The fresh mudslides through Dariali Gorge blocked the main road leading to the Kazbegi-Larsi Custom Service point with Russia late on August 20.
The disaster claimed the lives of two men.
The total damage is not yet known, but authorities assume it will cost several million GEL to clean up after the disaster.
This was the second landslide in Georgia's Dariali Gorge this year.
(Agenda.ge)