Azerbaijani entrepreneurs invited to participate in Georgia's investment forum
Monday, September 1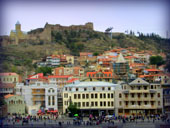 Tbilisi will host the International Investment Forum on October 29-30, the Azerbaijani Ministry of Economy and Industry said Aug. 30.
"The world's economy trends will be discussed as part of the forum, and Azerbaijani entrepreneurs are invited to participate in this event," said the statement.
Georgian Prime Minister Irakli Garibashvili, Vice-President of the Asian Development Bank Wencai Zhang, and President of the European Commission Jose Manuel Barroso will attend the forum.
The trade turnover between the two countries amounted to $372.02 million in January-July 2014, according to the Azerbaijani State Customs Committee. Azerbaijan imported Georgian products worth $55.93 million. Goods totaling $316.09 million were exported to Georgia.
Last year, the volume of FDI into the Georgian economy increased by 60 percent. Azerbaijan invested $89.9 million in Georgia in 2013, ranking fourth among the largest investors in Georgia.
The Netherlands ranks first in FDI with a 16 percent share in total investment in the Georgian economy. Luxembourg has a 15 percent share and China - 10 percent.
Georgia is expected to receive up to $ 700 million in the form of investment within five years as a result of the implementation of the second phase of Shah-Deniz project. This project is significant in ensuring the energy security of Europe. It will completely change the energy map of Europe in the near future. Around 2,000-3,000 jobs will be created. After increasing the capacity of the gas pipeline to 16 billion cubic meters of gas, five percent of them will remain in Georgia.
(Trend.az)