Ukrainian forces withdrew from Lugansk airport
By Ana Robakidze
Tuesday, September 2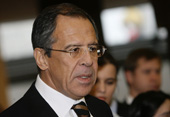 Ukrainian military forces were ordered to withdraw from a vital airport near the city of Lugansk after all-night fighting with Russian forces on September 1st. According to Ukraine's Security Council, the troops had withdrawn from Lugansk airport in an organized manner following the order. However, clashes are said to still be taking place near the airport in the city of Donetsk. The Ukrainian side claims their forces deployed around Lugansk airport had to fight Russian tank columns and seven Ukrainian service personnel had been killed in the past 24 hours.
"In Lugansk, Ukrainian forces have received an order and have pulled back from the airport," Ukraine army spokesman Andriy Lysenko told reporters. He said seven Ukrainian service personnel had been killed in the past 24 hours. Ukraine's Defense Minister Valeriy Geletey confirmed rumors about Russian troops advancing deeper into Ukrainian territory, including towards the largest city of eastern Ukraine Donetsk.
While Russia continues to claim that it does not have any intention of military intervention in Ukraine, Ukrainian forces say Russian artillery fires from across the border, helping the rebels advance.
After the heavy clashes between the forces, Russian Foreign Minister Sergei Lavrov urged the parties to make an immediate ceasefire agreement at the negotiators meeting on September 1st, in the Belarus capital, Minsk. The meeting brought together Ukrainian and Russian officials, representatives of separatist rebels and the OSCE security forum.
"There will be no military intervention…We are exclusively in favor of a peaceful solution to this terrible crisis, to this tragedy, and everything we do is aimed at establishing a political solution to the conflict," Lavrov said, speaking to students in Moscow.
Georgian Foreign Minister Maia Panjikidze commented on the escalations in Ukraine and said the government is constantly in touch with their Ukrainian colleagues and is ready to provide assistance.
"Georgia's Minister of Health Davit Sergeenko has brought very serious information from Ukraine and we have made serious plans on how we can help Ukraine," Panjikidze said. She condemned Russian military aggression and said Georgia is firm in its position and will always support Ukrainian sovereignty.
"Each statement made by the Prime Minister, Chairman of Parliament, President and members of the Cabinet of Ministers very clearly expresses the Georgian position," she said.