Russian market can be complemented with Armenian products – ambassador
Tuesday, September 2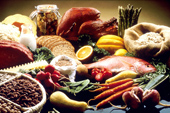 When some alcoves arise in some market, they are always complemented; in the Russian market, they can be complemented also on the account of Armenia-made products.
Russian Ambassador to Armenia Ivan Volinkin stated the abovementioned to reporters on Thursday, and in response to the Armenian News-NEWS.am reporter's remarks with respect to the United States and European Union restrictions on the import of agricultural products to Russia.
"We are actively working to arrange the supplying of agricultural products from Armenia. Even though Armenia is not a large state, it is possible to significantly increase the volume of exports of agricultural goods," Volinkin noted.
So, as per the Russian diplomat, it should be studied as to what alcoves are free in the Russian market, and what can be additionally supplied to this market.
"And we [Russia], on our part, will just contribute," the ambassador stressed.
(News.am)