NDI releases latest survey results
By Messenger Staff
Tuesday, September 2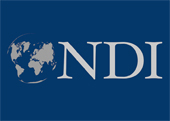 The National Democratic Institute (NDI) recently released the results of a survey that focused on politicians and political parties. The organization surveyed the public opinion of public figures as well.
The Patriarch remains the most approved-of figure in Georgia, followed by Defense Minister Irakli Alasania and Prime Minister Irakli Gharibashvili. However, during the last several months, all of them suffered a 10% decline in ratings. Conversely, the ratings of the president and newly elected Tbilisi Mayor Davit Narmania increased.
The president's rating might have been surprising for some people. However, the current controversy surrounding the President and Prime Minister resulted in more support for Giorgi Margvelashvili. Georgians have the perception that the president is being held back by the government, and are supportive of the "underdog". It should also be stressed that Margvelashvili is an active politician with interesting ideas that reflect in his rating.
The people were requested to assess the Prime Minister's activities in different fields. Based on the outcomes, Irakli Gharibashvili earned "average" assessments in terms of socioeconomic issues and relations with Russia. He gained positive scores concerning human rights, healthcare, education, minority rights, prisons, national security and agriculture issues. The PM did poorly when it came to the increase in prices, creating jobs and poverty.
Analyst Vakhtang Dzabiradze believes that the ratings reflect public mood. The analyst admits that the people were waiting for more benefits from the new government. "The public' disappointment was reflected in Gharibashvili's rating, as he is the face of the government," Dzabiradze said.
The majority of people think that the existence of a strong opposition party is important. 51% questioned believe that the United National Movement is a strong opposition party; it is followed by Nino Burjanadze's party at 5% and the Alliance of Patriots with 4%. The figures reveal that Georgians are waiting for a new strong opposition party.