Meeting with French Minister of Defence
Thursday, September 4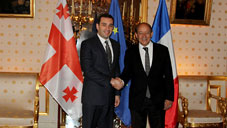 In the framework of the working visit to the Republic of France, Minister of Defence of Georgia Irakli Alasania was hosted by his French counterpart Jean-Yves Le Drian. Chief of the General Staff of Georgian Armed Forces Major-General Vakhtang Kapanadze and Deputy Minister of Defence Varlam Avaliani attended the meeting too held at the French Ministry of Defence.
The sides discussed the prospects of deepening bilateral cooperation in the military field. The significance of upcoming NATO Summit in Wales was also underlined during discussions. Jean-Yves Le Drian reiterated France's support to Georgia`s Euro-Atlantic aspirations. French Minister of Defence thanked the Georgian side for its participation in the peacekeeping operation ongoing in the Central African Republic under the auspices of EU. The sides also touched upon the regional security issues. "France supports Georgia's full-fledged integration into Euro-Atlantic organizations. It recognizes the necessity of equipping Georgian troops with the armament which will be adequate to the security challenges existing in the region. Minister expressed his gratitude for Georgia`s engagement in the EU-led peacekeeping mission in the Central African Republic. The bilateral relationship between France and Georgia will further strengthen", outlined Georgian Minister of Defence.
Major-General Vakhtang Kapanadze also stressed importance of the meeting with French Minister of Defence: "The meeting was extremely important where we discussed global security issues. The French side thanked Georgia for its involvement in the joint peacekeeping mission in Africa. What is more important, we have agreed to further develop the military cooperation between our countries".