Defence Minister attends Leadership Forum
Thursday, September 4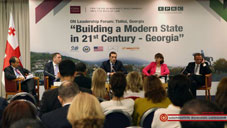 Courtyard Marriot Hotel hosted the leadership Forum: The Future of democratization: Lessons of Building a Modern State in the 21st Century. Defence Minister of Georgia participated in the conference.
Irakli Alasania delivered a speech in the panel discussion "Risks to Democratic Development: on the way towards Euro-Atlantic and European Integration". Defence Minister highlighted the issues and risks of building modern state. He emphasized Georgia's foreign policy priorities and steps made forward in defence sphere in this direction. Irakli Alasania also referred to the reforms carried out in the Georgian Armed Forces and Georgia's contribution in global security. "It was great honor to take part in the conference. Georgia hosts such a richness of thinkers who engage in the national debates and contribute to the global ones. We have discussed very important topics as are Georgia's integration towards NATO, security environment; we also referred to the actual issues for national, regional and Ukraine's security. Such intellectual debates are very significant especially for the governmental officials in order to learn what we do well, what mistakes we make and how to correct these mistakes. The conference was essential and useful. I'd like to express my gratitude to all participants and organizers", outlined Defence Minister after the panel discussions.
Senior Fellow at CDDRL Dr. Francis Fukuyama moderated the panel. State Minister on European and Euro-Atlantic Integration Alex Petriashvili, Minister of Foreign Affairs Maia Panjikidze and the representative National Defence University Grigol Mgaloblishvili participated in the panel discussions as well. President of Georgia Giorgi Margvelashvili opened the three-day international forum. The conference is being held under the aegis of Stanford University's center on Democracy Development and the rule of Law (CDDRL) in the participation with the Economic Policy Research Center of Georgia. Within the framework of the conference, the leading scholars, top Georgian and foreign policy-makers, international civil society representatives and the private sector exchange their experience and ideas in the field.