Visit to Latvian Republic
Thursday, September 4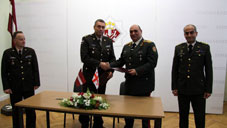 The leadership of National Guard of Georgia paid a working visit to Latvia. Commander of the National Guard of Latvia, Brigadier General Leonid Kalinins hosted Head of National Guard of Georgia, Brigadier General Levan Gamkrelidze and Chief of Staff, Colonel Telman Meskhidze.
At the meeting the sides shared experience. The head of National Guard of the both countries signed the Memorandum of Understanding between National Guards of Georgia and Latvia. Within the visit, the members of Georgian delegation, visited regional units of Latvian National Guard and got acquainted their structure, training circumstances, as well as combat preparation process of reservists and volunteers.
The Georgian delegation also held meetings with Defence Minister of Latvia Raimonds Vejonis, Chief of Defence of Latvia, Lieutenant General Raimonds Graube and Chief of Staff of the Latvian Armed Forces.