Georgian parliament to adopt resolution on Ukraine
By Ana Robakidze
Thursday, September 4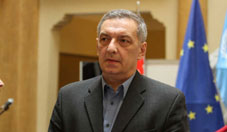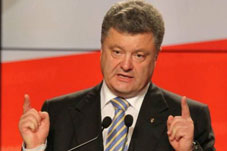 Georgian parliament decided to officially support the sovereignty and territorial integrity of Ukraine and adopt a subsequent resolution. The parliament adopted resolutions on the Ukrainian crisis in December 2013, January and March 2014, but the situation since then has drastically changed in the east of the country. According to the Head of the Georgian Dream faction, MP Giorgi Volski, the new resolution has to reflect the current situation in Ukraine and the Parliament's position regarding it. Volski said it is obvious that Russian forces are carrying out open military aggression against a sovereign state and the international community should make all efforts to stop Moscow.
"The Georgian Parliament supports the international community's, as well as the Georgian Government's efforts to help Ukraine, including offering humanitarian aid. All resource and measures should be used to stop military actions and aggression," Volski stated.
The resolution drafted by the Georgian Dream says that Russia once again violated international law, and just like it did in Georgia in 2008, Moscow now violates the territorial integrity of Ukraine. There is a great threat for large-scale military hostilities between the two states, which endangers regional, as well as international peace and stability.
The parliament stresses in the draft the importance of accelerating Euro-Atlantic integration of Georgia, as well as of Ukraine and Moldova and calls on the international community to use all possible methods to bring hostilities in Ukraine to an end.
The situation in the east of Ukraine escalated last week and deteriorated into violence between the Ukraine army and pro-Russian rebels. Ukraine's President Petro Poroshenko had a phone conversation with Russian President Vladimir Putin and they agreed on starting the cease fire process.
"The parties reached mutual understanding on the steps that will facilitate the establishment of peace," a statement by the Ukrainian President's office said on September 3rd.
The information was denied by Putin's administration. The Kremlin stressed that Russia is not a party to the conflict, therefore President Putin had not agreed to a ceasefire with Poroshenko.
According to Putin's spokesperson Dmitry Peskov, it is correct that the presidents agreed on steps towards peace.
"Putin and Poroshenko really discussed the steps that would contribute to a ceasefire between the militia and Ukrainian forces. Russia cannot physically agree to a ceasefire because it is not a party to the conflict," Peskov said.
The Russian government continues to deny any involvement in the Ukrainian conflict and says the Ukrainian government has failed in negotiations with the rebels.