President Margvelashvili in Wales for NATO Summit
By Ana Robakidze
Friday, September 5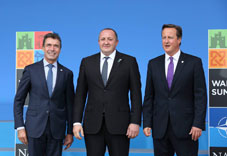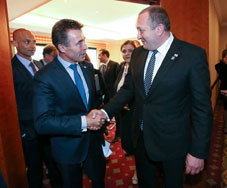 Georgian President Giorgi Margvelashvili and his delegation arrived in Wales to participate in the NATO Summit of Heads of State and Government. The Summit was opened on September 4, at the Celtic Manor Resort in Newport, Wales.
Before opening the summit, a meeting between the Georgian President and NATO secretary General Anders Fogh Rasmussen was held.
According the president's administration the parties stressed the overall importance of the Summit. President Margvelashvili and Secretary Rasmussen focused on the Substantive Package, a document, which Georgia is expected to be granted on September 5 in Wales. According to the Secretary General, it will be a new impetus for preparing Georgia's integration into NATO.
Margvelashvili thanked the Secretary General for supporting Georgia and said it is very important that the alliance appropriately evaluates the progress Georgia has made.
Rasmussen made a series of Tweets after his meeting with Margvelashvili and said as one of the largest non-NATO troop contributor to ISAF in Afghanistan, Georgia demonstrated itself as a security exporter. He praised the country for carrying out, as Rasmussen said, remarkable defense reforms.
While in Wales, the Georgian President was interviewed by Channel 4. Margvelashvili spoke about the Ukrainian crisis and drew parallels to the Georgia-Russian War of 2008. He said that Ukraine has become a victim of Russian aggression, partly because Russia was not held accountable for its invasion of Georgia in 2008. Margvelashvili believes the world must not think of the Georgian and Ukrainian crisis as separate cases.
"I believe that these past six years were not used enough to make Russia pay for its aggressive moves and make them think twice before what happened in Ukraine…If you look at Georgia as an individual crisis, if you look at Ukraine as an individual crisis, then you are going to get another crisis as well. This is a unified policy. This is a spoken-out policy by Russia. Let me note that this is a policy that brings no good to either Russia or to the states engaged," President stated in his interview.
Russian aggression in Ukraine is going to be one of the major topics addressed at the summit. Speaking at the pre-summit press conference the Secretary General said the summit is taking place in a changed world, where there are many challenges and NATO's greatest responsibility remains to protect and defend our populations and our territories.
"I expect it to be a crucial summit in NATO's history. This is a time of multiple crises on several fronts. To the east, Russia is intervening overtly in Ukraine. To the south, we see growing instability, with fragile states, the rise of extremism, and sectarian strife," Rasmussen said.
He also revealed that NATO is going to enhance the responsiveness of its Response Force, which means a very high readiness force will be able to deploy at very short notice. According to the Secretary General, this spearhead would be provided by allies in rotation, and could include several thousand troops, ready to respond where needed with air, sea and Special Forces support.