NATO recognizes Georgia's efforts, approves substantive package
By Ana Robakidze
Monday, September 8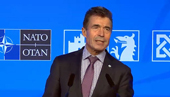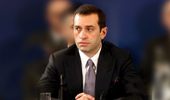 NATO member states have agreed to a substantive package for Georgia, which as Secretary General Anders Fogh Rasmussen explained will help Georgia to better prepare for alliance membership. The package was approved in Wales at the NATO summit.
"Today, we agreed on a substantive package of measures for Georgia, a substantive package that will help Georgia advance in its preparations towards membership of NATO," Rasmussen said at the press conference on September 5th.
The Wales Summit Declaration reads that Georgia's relationship with the Alliance contains the tools necessary to continue moving Georgia forward towards eventual membership. Therefore, the alliance offers a substantial package to Georgia that includes defence-capacity building, training, exercises, strengthened liaison, and enhanced interoperability opportunities. NATO officials say these measures aim to strengthen Georgia's defence and interoperability capabilities with the Alliance, which will help Georgia advance in its preparations towards membership in the Alliance.
"NATO recognizes Georgia's significant efforts to strengthen its democracy and to modernize its military forces and defence institutions…We encourage Georgia to continue its implementation of the reforms, including consolidating democratic institutions, making judicial reforms, and ensuring full respect for the rule of law… At the 2008 Bucharest Summit we agreed that Georgia will become a member of NATO and we reaffirm all elements of that decision, as well as subsequent decisions." the declaration states. It also emphasizes Georgia's significant progress in implementing ambitious reforms and making good use of the NATO-Georgia Commission and Annual National Programme.
The Georgian government is ready to start implementing the new package. According to the Georgian Defense Minister Irakli Alsania the military center, which has to be established in Georgia based on NATO's substantive package, will be a military training facility, where NATO members and its partners will train. The government still has to identify the location of the training center.
"There are lots of suggestions, we already have a Krtsanisi training base, which has been used for years by the U.S. Marines for training Georgian troops – almost 12,000 Georgian troops were trained in pre-deployment to Afghanistan and other missions at Krtsanisi training facility," Alasania said, speaking at the Atlantic Council's Future Leaders Summit on the September 4th.
The Wales Summit Declaration also speaks about launching a defence-related Security Capacity Building Initiative to reinforce NATO's commitment to partner nations and to help the Alliance to project stability without deploying large combat forces.
"The initiative builds upon NATO's extensive expertise in supporting, advising and assisting nations with defence and security-related capacity building. Building on our close cooperation and following their requests, we have agreed to extend this initiative to Georgia, Jordan, and the Republic of Moldova," the declaration states. NATO is ready to offer the same initiative to any interested partner and non-partner state, as well as to international and regional organizations.