U.S. Secretary of Defense Chuck Hagel visits Tbilisi
By Ana Robakidze
Tuesday, September 9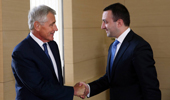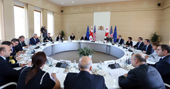 U.S. Secretary of Defense Chuck Hagel wrapped-up a two-day official visit to Tbilisi. Minister of Defense Irakli Alasania hosted the Pentagon Chief. Hagel also met President Giorgi Margvelashvili and Prime Minister Irakli Garibashvili and visited the National Training Center in Krtsanisi.
According to the Defense Ministry, the U.S Secretary of Defense reiterated the importance of the US-Georgia partnership and expressed his willingness to continue enhanced cooperation with Georgia in the defense area. He gave a positive assessment to the Substantial Package and pledged support in its implementation.
Speaking at a news conference after his meeting with the Georgian Defense Minister, Hagel said Georgia is a very reliable partner and that the U.S will continue supporting it in future defense reforms as well as in approaching NATO. According to the Secretary of Defense, Georgia reached a new elevated status with NATO, which should open up enhanced opportunities for the country.
"The eventual membership for Georgia in NATO is something that we are committed to and the process to get there is important. I think Georgia has to see results of the summit as a significant victory for them and a significant addition to what will be their capabilities," Hagel stated. He also spoke about Russian aggression and said Putin's irresponsible actions in Georgia and Ukraine, saying the United States and its allies take it very seriously.
"Let me remind you that this is a crisis in Ukraine. It is an extension of what we Georgians have lived through the past twenty years, especially the aggressive war against Georgia in 2008. It is more painful for us to see that the world was not able to put checks on the aggressive behavior of Russia and now we are paying another price," Alasania said.
Georgian politicians, as well as experts agree that Hagel's visit to Georgia was yet another expression of the U.S.'s support. Political analyst, Tornike Sharashenidze said in one of his TV interviews that U.S support is vital for Georgia.
"In the case Georgian military has U.S support, they will be able to stop the aggression. Now it is important to make the bilateral co-operation (between Georgia and US) as effective as possible, so we can have the defensive armaments we need now," Sharashenidze said.