$42m five-star hotel planned for Batumi
Tuesday, September 9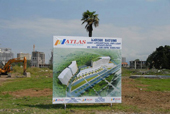 A top-of-the-line hotel project worth more than $42 million USD has begun at Georgia's coastal resort city Batumi.
The five-star hotel is being built by construction company Avrasya Georgia, and when completed in 2019, the facility will include multiple casinos, a 1,500-person conference hall and a retail shopping centre.
Avrasya Georgia, a Turkey-based construction company, was founded in December 2010 and since then it was responsible for multiple investment projects in Batumi worth about $13 million USD, which included a modern bus station, open market and other commercial facilities.
A presentation of the hotel project and foundation laying ceremony of the luxury hotel was held in Batumi last week.
Georgia's Minister of Economy Giorgi Kvirikashvili said this project would bring significant benefits for the region, such as promoting Batumi's tourism potential. Locals would also have the opportunity to find employment within the project's construction.
"Implementation of the $42 million dollar investment by Avrasya Georgia in Batumi will create a lot of benefits for the people living here. For them, [this project] will increase revenue, expand business opportunities and they will receive advanced services," Kvirikashvili said.
The company's CEO Galip Ozturk said the project was on time and all was going according to plan. He said it was possible the Turkish company would be interested in implementing other projects in Georgia in the future.
(Agenda.ge)