Austrian Foreign Minister to pay official visit to Georgia tomorrow
Tuesday, September 9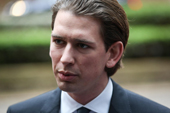 Austrian Foreign Minister Sebastian Kurz is paying an official visit to Georgia. He will hold several high-level meetings.
The Business Forum will be held at Sheraton Metechi Palace hotel on September 10. The eventís main goal is to introduce Georgiaís economic market to Austrian investors.
The Vice-President of the Chamber of Commerce and the Austrian Foreign Minister will deliver speeches at above-mentioned event.
(Frontnews)