Georgian government to implement new reforms in education system
By Ana Robakidze
Wednesday, September 10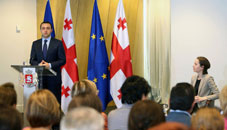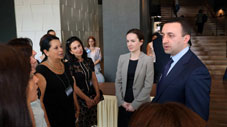 The Georgian government will prepare a new salary package for Georgian teachers in 2015. Speaking at the Teacher Training, Professional Development and Career Growth Conference, Prime Minister of Georgia Irakli Gharibashvili said the education system will undergo more reforms in the upcoming years and teacher salaries will be increasing in the 2016-2017 academic years.
Gharibashvili briefed the participants of the conference about the innovations in the Georgian education system and said the government had prepared a new strategy for the development of the education and science system. The PM expects increased investment in education.
"We continue to make serious investments in the field of education. Since 2012, investment has been increased in education and science," Garibashvili stated.
The PM and his cabinet continue to support Georgian students willing to study abroad. The International education center, which was established based on the PM's initiative, has already financed the education of 77 students in leading universities around the world. According to Gharibashvili, the center continues to accept the applications of those who seek scholarships to study in foreign universities.
To emphasize how effective his government's reforms were, Gharibashvili said that annual family cost for general education was reduced by 60%, new schools are being built and more than 1,000 schools have been reconstructed. He also mentioned the government's efforts to develop previously less popular sectors, by making higher education in 21 fields at no cost.
Ghariabshvili also discussed the challenges Georgia may face after signing the Association Agreement with European Union. The PM said it is important to make the Georgian education system compatible with the EU standards.
"In order to fully integrate with the European educational sphere, we have to improve the level of our education as quickly as possible," PM stated.
The Teacher Training, Professional Development and Career Growth Conference was organized by the Ministry of education. The conference took place on September 9th and was attended by state officials, non-governmental organizations, as well as teachers and school principals.