Georgia to tighten law on environment pollution
By Ana Robakidze
Monday, September 15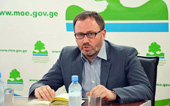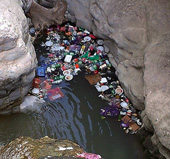 Georgian government has decided to toughen its law on environmental pollution and littering.
The initiative was voiced by the Prime Minister at the government meeting on September 5th.
He said fines will be huge for those who purposely litter or pollute the environment.
"There should be strict administrative penalties and fines related to littering and anyone who behaves irresponsibly will face the maximum penalty," PM said.
Considering Georgia's highly polluted environment Article 146 of the Code of Administrative Offences, appears to be ineffective. The article states that if throwing construction and household waste on roads, rivers, lakes and lakesides, slopes and ravines, parks, lawns, gardens, playgrounds, parking lots, markets and other places, individuals could be fined 200 GEL, while legal entities, institutions and organizations could be fined 1,000 GEL. There also is a big problem with actually enforcing the law.
Minister of Environment and Natural Resources Elguja Khokrishvili says the law-enforcement bodies will be ordered to take a stricter approach on environmental law violations. The minister announced a large-scale campaign on September 12 – "Don't leave waste – take care of the environment."
The ministry initiated the campaign to help reduce pollution level in Georgia, which has been very high for many years now, mostly because of the absence of a united waste management and recycling system.
According to Khokrishvili, based on a study his ministry has prepared, an interactive map that indicates locations and the extent of contamination. He admits that the situation in the country is alarming.
The ministry of environment has prepared a draft law, which shall be presented to Parliament in the nearest future. The amendments provide new penalties. According the draft, throwing less than 2kg of household waste into the environment will be punished with a 20 GEL fine and those who litter from a vehicle could be fined 40 GEL. While, dumping one cubic meter of rubbish will be fined 200 GEL and legal entities could be fined 1,000 GEL for the same offence.