Belarus companies interested in opening agro-industrial enterprises in Gyumri
Monday, September 15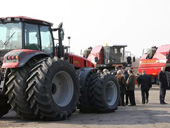 Belarusian enterprises want to work in Gyumri. Armenian National Assembly (NA) Vice-Speaker Eduard Sharmazanov told the aforesaid to reporters on Saturday, following his talk with Belarus NA House of Representatives Vice-Speaker Viktor Guminsky.
In his words, the Belarusian companies are interested in opening and developing agro-industrial enterprises in Armenia's Shirak Region, particularly in the City of Gyumri.
"There is already an understanding on this matter," stressed the Armenia NA deputy chairman.
As per Sharmazanov, the Armenian and the Belarusian MPs look toward the strengthening of economic contacts between their countries, and they will propose to the Armenian-Belarusian Intergovernmental Committee to incorporate the MPs of the two countries into the committee.
(News.am)