Pursuit of justice continues
By Messenger Staff
Monday, September 15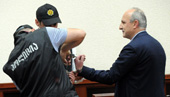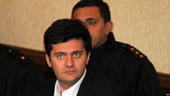 Georgian society is a very close-knit society, and the exchange of news and information happens easily and quickly in Georgia. Often times, news spreads so fast that it reaches the population before the media gets its hands on it. So, people are of aware what is happening, especially if the news concerns well known public figures. Another good source of information is traditional Georgian table sitting (the supra).
It is rumored that at a supra, a drunken high state official said: "If you steal money, don't steal 1 million, steal 10 million, that way, if you are caught, you pay 9 million and leave 1 million for yourself."
Unfortunately his words contain more than I grain of truth. At a recent trial taking place in Georgia concerning millions of laris stolen form the state budget and from the Georgia population by the representatives of the former United National Movement (UNM) government, embezzlement, bribes, and other economic crimes took place in Georgia. What is officially acknowledged today, was known to the public a long time ago. There were even jokes circulating about the public money spent by President Mikheil Saakashvili and his closest friends during his time in office. One notorious case occurred when President Saakashvili invited a famous Spanish chef and a German therapist, as well as different singers to Georgia using state money.
In addition to the financial violations, there were multiple cases of human rights abuses committed by high officials. The former administration bragged that it eliminated low-level corruption, but high level corruption was widespread among Saakashvili's close friends in the government.
High level corruption aside, the UNM managed to create a very favorable reputation throughout the world, due to big money paid to lobbying firms in London and Washington D.C. As a result, today when the current government tries to punish those who have taken part in these crimes, many in the West consider this political score settling. It looks to many in western capitals like the Georgian Dream coalition is politically persecuting its opponents. In reality, the corruption was systematic. The UNM created an atmosphere of impunity for its high-ranking officials. This is the reason the representatives of the UNM are using all their efforts to discredit the current government. No one in the west doubts when Italian Prime Minister Berlusconi, Chancellor Helmud Cole, and the Israeli President appeared before the court. These were just single cases. In Georgia economic crimes had taken on a systemic character. The president, the Tbilisi mayor, the majority of ministers, MPs and many other officials were abusing the law. That is why there are now voices demanding that the Georgian government establish justice, and the rule of law for the country. Being a high-ranking official is not a privilege, but it is a responsibility which should be followed by everyone. The higher the position, the higher the responsibility is.