New suspects in Raphaliantsi case
By Ana Robakidze
Thursday, September 18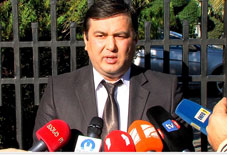 The attorney of the Raphaliantsi family says the Georgian Dream party had an interest in covering-up many details in the Barbare Raphaliantsi homicide investigation. In 2012, 10 month-old Barbare Rafaliantsi was found drowned in a clay pitcher in her familyís cellar. The prosecutorís office has been investigating the case for about two years now without success.
Raphaiantsiís death was marked as a high-profile case and was taken under the personal control of then Interior Minister, Irakli Gharibashvili.
Attorney Romeo Sajaia, who also represents the non-governmental organization Center for Freedom and Support, released video footage of Lali Bitsoshvili speak about the Raphaliantsi death in detail. Bitsoshvili, who was a member of Georgian Dream Coalition, and was sent to the Raphalaintsi family as an attorney, says the Head of the General Inspection of the Interior Ministry, Varlam Khartridze and the former head of the same institution, Zviad Jankashvili, tried to cover-up Rapaliantiís death. She also claims that Deputy-Minister of Culture Manana Berikashvili was one of the organizers of the crime.
Similar information was voiced by the non-governmental organization Center for Freedom and Support in mid-August 2014, when organization representatives said a group of non-governmental organizations carried out joint work on the case and obtained video and audio evidence that proves the current senior officialsí involvement in the crime. The organization claimed that in order to raise public protest against the United National Movement (UNM), Georgian Dream members, who were opposition leaders at the time, planned Rapaliantsiís murder. The Center for Freedom said the evidence would become public after the witnesses felt that their safety could be ensured.
The UNM is sure the Raphaliantsi case requires additional attention. Representative of the UNM, Sergo Ratiani MP says investigative bodies have been unsuccessful and it is time for the Parliament to take the case under its control. Parliament will discuss the possibility of setting up a commission in the near future.
Georgian Dream officials however deny these allegations from UNM. They claim that these accusations have no ground whatsoever and the case should be investigated more thoroughly.