PM: Georgia a "stable transit country" at major gas pipeline launch
Monday, September 22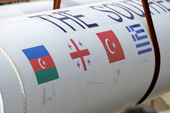 "Georgia remains a stable transit country", Prime Minister of the country Irakli Garibashvili said after a ceremony that marked the launch of the Southern Gas Corridor in Azerbaijan.
Officials gathered at the Sangachal terminal in Azerbaijan yesterday to mark the occasion.
Insiders said the Southern Gas Corridor – part of the second phase of the Shah Deniz field development – was set to change the whole energy map of the region and enable Europe to have access to the resources of Caspian Sea.
Shah Deniz Phase 2 included expansion of South Caucasus Pipeline, which will result in an additional 16 billion cubic meters of gas annually being delivered in the direction of Turkey.
The 692km South Caucasus Pipeline, which began operation at the end of 2006, transported gas from the Shah Deniz field in the Azerbaijan sector of the Caspian Sea to Turkey through Georgia along the Baku–Tbilisi–Ceyhan pipeline.
PM Garibashvili said the South Corridor was "the project of the 21st century" adding Georgia was a stable partner in the region and would do its best to successfully implement the project.
"This is a 45 billion dollar project from which a 2 billion dollar investment will be implemented in Georgia, which will cause the creation of thousands of work places," PM Garibashvili said.
He said development of the Southern Gas Corridor would significantly increase the role of Georgia as a transit country of Caspian resources, which was one of the important factors for receiving additional income, increasing energy and political security.
Shah Deniz lies some 70 kilometres offshore in the Azerbaijan sector of the Caspian Sea. Discovered in 1999, it remained one of the largest gas condensate fields in the world which is being developed in stages: Stage 1 involved the construction of a single platform with pipelines back to Sangachal Terminal, near Baku, while Stage 2 will focus on the remaining resource potential in the currently producing reservoir intervals, adding 16 bcma of gas and increasing condensate production to 120,000 barrels per day.
Meanwhile after yesterday's ceremony, President of Azerbaijan Ilham Aliyev hosted an official dinner involving the Prime Minister of Georgia and other heads of delegations who attended the ceremony.
(agenda.ge)