PM Gharibashvili speaks at UN Climate Summit
By Ana Robakidze
Thursday, September 25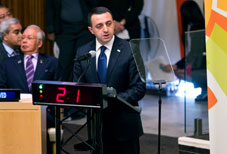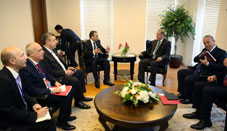 Climate change creates widespread and unpredictable change around the world and jeopardizes the lives of millions of people, Prime Minister of Georgia Irakli Garibashvili said in his speech at the UN Climate Summit. The PM stated the process can become irreversible if the world does not take timely action to prevent climate change.
"No country is immune to climate change. Climate change poses a direct threat to our security. Climate change's adverse impact on our ecosystem and economy motivate Georgia's commitment to sustainable development," the PM said, adding that his country is vulnerable to natural threats such as floods, mudflow and landslides and the government is ready to commit to an improved environment.
"We are currently preparing a Low Emission Development Strategy together with the US Government, which will provide an integrated comprehensive pathway for long-term, sustainable development and help to meet international climate change commitments. Georgia is working on the preparation of National Appropriate Mitigation Actions and is proud to have achieved the first match in the UNFCCC NAMA registry," Gharibashvili stated. He also spoke about the large hydropower potential of Georgia and stressed that the government enhances renewable energy development.
According to Gharibashvili, Georgia will not only provide itself with hydropower, but become a major clean power supplier in the region and factoring in its extensive tree coverage, Georgia will do its utmost to remove carbon from the atmosphere.
PM Gharibashvili, who arrived in New-York to participate in the General Assembly session and the UN Climate Summit, is holding high-level meetings with world leaders. He already met with Turkish President Tayyip Erdogan and Latvian President Andris Berzis.
He also attended the Plenary Session of Clinton's Global Initiative in New York, where overcoming poverty all over the world, the availability of healthy food, the necessity of water and sanitary conditions were the major topics discussed. Former U.S President Bill Clinton, who was the one to organize the event, urged society to become better involved in overcoming global problems.