Prime Minister speaks at Open Government Partnership (OGP) Conference
By Ana Robakidze
Friday, September 26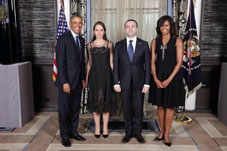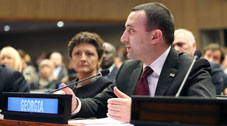 Prime Minister of Georgia, Irakli Garibashvili continues his visit to New-York. He attended the general debate of the 69th session of UN General Assembly, where Georgia received the designation of Vice Chairman. The country will keep the position through the year and along with the General Assembly President, will participate in the construction of the Assembly agenda.
The Head of the Georgian mission to the UN will move his seat in the presidium to lead individual sessions.
PM Gharibashvili also had a chance to meet U.S President Barack Obama in an informal environment, while attending the evening reception hosted by the US President and his wife Michelle Obama.
"This was not a bilateral meeting. However, despite this, the PM enjoyed the opportunity to exchange a few words with the US leader," Georgia's Foreign Minister Maia Panjikidze said later.
Within the framework of his visit to the UN, PM Gharibashvili addressed the Open Government Partnership (OGP) Conference in the UN. He spoke about the initiatives and innovative decisions reflected in the second action plan of Open government – Georgia.
"Our goal is to become more open for our citizens, more accountable to them and to give them more and broader authority. Our country has the most innovative decisions related to state purchases, making public financial information public and the delivery of state services," the PM stated, adding that his government had achieved an unprecedented level of openness.
According to the PM, the government has been extremely successful in the freedom of information area, by bringing the standards of Freedom of Information to a high level through implementing a new obligation for state agencies to proactively disclose public information.
"This is an example of strong and efficient collaboration between the CSOs and the government to achieve the desired results of transparency and accountability," Gharibashvili stated.
The PM also thanked the Open Government Partnership for making the Georgian government a member of the OGP coordination committee for the next two years. OGP is an initiative within the UN framework, uniting governments of 63 countries to work together with citizens to promote transparency, fight corruption and use technology as an enabler of that openness.