UNDP offers updated cooperation plan to Georgia
By Ana Robakidze
Thursday, October 2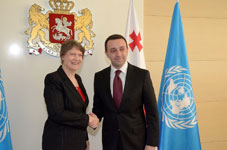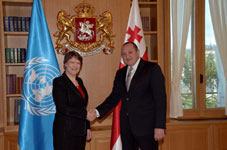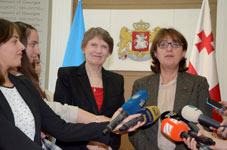 UN Development Program (UNDP) has offered a new plan of partnership to Georgia. The Administrator of the UNDP Helen Clark said at the meeting with Georgian Prime Minister Irakli Gharibashvili that the plan will be elaborated based on main priorities of the country to support its further development.
The UN official met Gharibashvili on October 1. The two discussed the reforms implemented in co-participation of the UNDP and further economic development of the country. Clark praised Georgia and said the country has advanced a lot.
"We are glad that Georgia is carrying out such important reforms. We are especially pleased that today inclusive development policy is being implemented. Georgia has developed a comprehensive strategy in the field of human rights that will become the cornerstone of the country's development," Clarke stated.
The parties also discussed the situation in Abkhazia and South Ossetia break-away regions and the ways of peaceful conflict settlement.
Foreign Minister Maia Panjikidze, who also attended the meeting, expressed her gratitude for the work UNDP is carrying out.
"We have expressed hope that this cooperation will deepen further. What is being done in Abkhazia should also be carried out in the occupied region of South Ossetia," the minister said after the meeting. According to Panjikidze the government hopes to further cooperate with the UNDP to improve humanitarian problems, to promote democratic institutions, judicial reform and protection of environment.
The UNDP Administrator also had a meeting with President of Georgia, Giorgi Margvelashvili. The two discussed security issues in the conflict regions, as well as the importance of speedy implementation of Comprehensive Free Trade Area (DCFTA) and the ways of reducing unemployment in Georgia.
The UNDP Administrator was accompanied by Cihan Sultanoglu, Assistant Administrator and Director of the UNDP Regional Bureau for Europe and CIS, Niels Scott, UNDP Resident Representative in Georgia and other senior UNDP officials.
The UNDP delegation left Tbilisi on October 1st, to continue its official tour in other South Caucasus Countries – Armenia, Azerbaijan.