PACE still concerned over independence of judiciary
By Ana Robakidze
Friday, October 3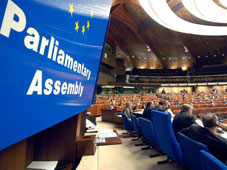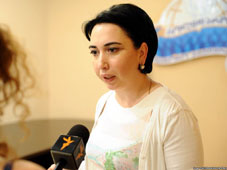 The Parliamentary Assembly of the Council of Europe (PACE) says political tensions between the ruling and opposition parties has overshadowed positive changes that were taking place in the democratic environment of Georgia since the smooth handover of power was accomplished in 2012.
The United National Movement (UNM) has reported that several thousand of its activists and supporters were regularly interrogated and intimidated by various investigative agencies (some up to 30 times). A number of major opposition figures, including members of parliament, were violently attacked.
"It has to be noted that two years on, almost the entire leadership of the former ruling party has been arrested or is under prosecution or investigation: former Prime Minister and UNM Secretary General Vano Merabishvili, former Defence Minister Bacho Akhalaia, and former Tbilisi Mayor and UNM campaign manager Gigi Ugulava, are in prison, The judicial authorities have charged former President Mikheil Saakashvili, and ordered his pretrial detention in absentia, as well as for former Minister of Defence David Keserashvili, and former Minister of Justice Zurab Adeishvili," the resolution states.
PACE praised Georgia's parliament for being a strong institution and able to find consensus solutions to major political challenges. However, the assembly recalls its concerns about the independence of the judiciary and administration of justice in Georgia and about allegations that the arrests and prosecution of a number of former government officials are politically motivated and amount to selective and revanchist justice.
PACE says the Georgian government should consider tensions in the political environment created by the prosecutions against former officials and suggests possible amnesty for all but serious crimes committed by former government officials. Additionally PACE is concerned by the length of the pre-trial detention of former Defence Minister Bacho Akhalaia. The assembly says Georgian authorities have to use all possible legal means to replace his detention on remand with some other non-custodial precautionary measure.
The Georgian government welcomes the PACE resolution. However, it disagrees on the possibility of existing political tension or politically motivated prosecution against former officials. Commenting on the resolution, Deputy Chief Prosecutor of Georgia, Giorgi Gogadze said all charges against Akhalaia, and other former officials who are in pre-detention are legally motivated and the Prosecutor's Office is not going to be involved in politics or make a political assessment of the situation.
Speaking at the Parliamentary Assembly, member of the Georgian delegation, MP Eka Beselia said the protection of human rights is the government's top priority and it is not allowed to put Saakashvili or Akhalaia above the law.
"The authorities have already succeeded in freeing the court from political influence. They have set to looking into the cases of those criminals that have committed unspeakable crimes, starting from murdering people and ending with subjecting their victims to inhumane treatment. Obviously, we cannot put Saakashvili or Akhalaia above the law. We do maintain that each and every one of us is equal before the law," Beselia said in her speech.