Talk of checkpoint closure leading up to Geneva Talks
By Messenger Staff
Tuesday, October 7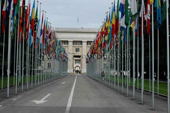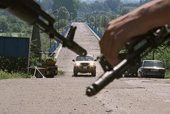 The 29th round of the Geneva Talks is scheduled for October 7-8. The agenda of the meeting still includes the non-use of force, launching the international security mechanism and the return of refugees and IDPs back to their homes. Any advancement on these issues is unlikely however. The focus will be on the checkpoints at the de-facto administrative border that was pushed forward by Abkhazian President Raul Khajimba a couple of days ago.
Khajimba is planning to fortify an administrative border with Georgia that will result in restricted access between the two areas and reduce the number of checkpoints from six to one.
"Only one checkpoint should operate on the state border with Georgia, along the Enguri River. Taking into account the security of our state, all other checkpoints should be closed," Khajimba said.
There are 6 checkpoints at the administrative border, one main check-point and 5 additional ones.
Responding to the statement, Georgian Prime Minister Irakli Gharibashvili called the initiative irresponsible, and one which will worsen ethnic Georgians' fundamental rights in the Gali region and will not support the reconciliation policy between Georgia and the occupied regions.
The prime minister stressed that the Georgian side is doing its best to improve relations with the region and named several projects as proof of his words. In the end of August, Gharibashvili attended the ground breaking ceremony of a multi-functional hospital in the village of Rukhi near the administrative border. The hospital will cost 41.2 million GEL and will serve 220 patients. The construction will be completed in just over two years. The construction area also envisions a library for medical students, a hotel, playgrounds and gardens. The second project the PM focused on was a trade complex near the border that will support the restoration of trade and cultural relations between the region's population and the rest of Georgia.
State Minister of Georgia for Reconciliation and Civil Equality Paata Zakareishvili believes that the closing of the checkpoints will significantly deteriorate the situation among the people across the administrative border. According to him, only one checkpoint will not be enough. The minister hopes Khajimba will change his position.
Whether Khajimba revises his decision will greatly depend on Moscow. The initiative itself would have been agreed to by Russia or demanded by the Kremlin. Russia uses double standards towards Georgia. It verbally declares positive relations with the country and, on the other hand, emphasizes that Abkhazia and South Ossetia are independent states.