Russia continues to ignore its non-use of force obligations
By Messenger Staff
Tuesday, October 14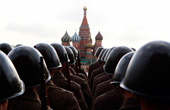 The 29th round of the Geneva Talks held several days ago focused on security-related issues. One of the major topics of the negotiations were the obligations related to the non-use of force. Georgia, which followed through with this obligation unilaterally in 2010 is demanding the same from Russia. Russia insists that it is not a party to the conflict and refuses to sign the agreement. Russia is trying to cheat the world community and appeals to Georgia to sign a memorandum with the occupied regions of Abkhazia and South Ossetia that is unacceptable for Georgia.
One of the aims of the Geneva Talks is drafting a common document concerning the non-use of force. The Georgian side aims at reflecting the Russian confirmation of the non-use of force in the text.
Russia's Foreign Ministry stated after the talks that at the end of the meeting, representatives of the occupied regions raised the issue of signing such a memorandum between Georgia and the de-facto regions. The Russian Foreign Ministry claims that the NATO Wales Summit outcomes and the deployment of NATO training bases in Georgia have increased the necessity of such a document.
The Russian Foreign Ministry alleges that the Georgian side also discussed this possibility.
The Georgian Foreign Ministry denied the statement. According to Deputy Foreign Minister Davit Zalkaniani, the issue was really pushed forward by the Russian side. However, it was not discussed under the Geneva format.
Co-chairs of the Geneva Talks also denied the discussion. According to them, participants exchanged the views over non-use of force and other security related issues and agreed that the talks over the common document will continue during the following meetings of the Geneva Talks.
Commenting on the talks, the US delegation, which also took part in the negotiations, stated that the next Geneva Talks should be fruitful in terms of removing barbed wire fences, free movement over the administrative border lines and signing the non-use of force agreement between Georgia and Russia.
If the security agreement is signed between Georgian and the de-facto regions, it will be the indirect recognition of the territories as independent republics that is in Russian interests.
The next round of the talks is scheduled for December 9-10, 2014.