PM sends a warning message to criminals
By Ana Robakidze
Wednesday, October 15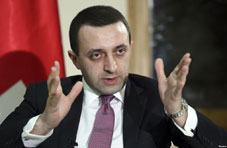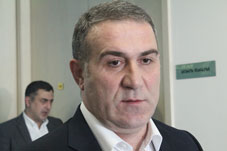 Former employee of the Constitutional Security Department (CSD) Durmishkhan Gvachliani and former employees of the MIA Special Operative Department (SOD) Jemal Shonia, Aleksandre Tchanturia and Giorgi Kaldani, were detained and interrogated with regard to the kidnapping and illegal detainment of Ioseb Giorxelidze.
According to the Ministry of Internal Affairs, Kaldani cooperated with the investigators and indicated the exact spot in the forest where cash and firearms were stored by him and his accomplices. Also Shonia led authorities to the building where Ioseb Giorxelidze was reportedly kept in detention.
Commenting on the case, Prime Minister Irakli Gharibashvili said that those who were detained and the crime they had reportedly committed is a reflection of the United National Movement and its style.
"Of course it has to be clarified first who was behind it. I have a reasonable suspicion that an organized force was behind it and I have the impression that this is the National Movement's style, but of course it has to be investigated," Gharibashvili told media.
He publicly thanked the Interior Ministry for carrying out the special operation at a high professional level and sent a warning message to future offenders.
"Any person who has plans against our statehood and our citizens will be severely punished… I would like to warn the people who stand behind this and whose dirty heads have been preparing this brutality for years. These are the people who committed the Khurcha terror attack, who were raping and torturing people in police stations and prisons, who were kidnapping and murdering people. I want to give them a final warning to come to their senses. If they do something against our citizens and our state they will be severely punished," he said.
Representatives of the UNM instantly replied to PM and said Gharibashvili's statements were a lie.
According to UNM MP Nugzar Tsiklauri, Gharibashvili's remarks are absolutely immoral and untrue.
The interior ministry continues its investigation on Giorxelidze's case. An investigation is in progress over the hostage-taking for ransom by the group, the illegal purchase and possession of firearms and the illegal purchase and possession of drugs.