Meeting with Businessmen
Thursday, October 16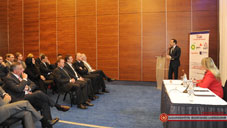 The Defence Minister of Georgia held meeting with the representatives of member companies of the American Chamber of Commerce in Georgia at the Radisson Blu Iveria hotel. President of the American Chamber of Commerce Sara Williamson opened the meeting.
During the speech, Irakli Alasania highlighted the role of government in supporting the business sector in order to improve the business environment in the country. The Defence Minister also referred to Georgia's foreign priorities, Georgia's contribution to international peace and security, the improvement of the country's defence capabilities and regional security issues.
"We talked about how Georgia's security is improving after the NATO Summit. If the country is not well protected, economy development and social welfare can't be reached. Businessmen realize perfectly how important defence and security strengthening is for stability and economic welfare. Hence, we talked about the policy the Georgian government carried out in this direction," stated Alasania.
The meeting with the Defence Minister was held under the initiative of the American Chamber of Commerce in Georgia. The American Chamber of Commerce held meetings with the representatives of the Georgia on a regular basis.
Defence attaches accredited to Georgia attended the meeting with the businessmen as well.