Deputy Defence Minister of Poland at Georgian MoD
Thursday, October 16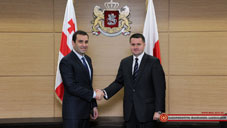 The delegation of National Defence of the Republic of Poland, led by Deputy Minister Robert Kupiecki pays two-day official visit to Georgia. Defence Minister of Georgia hosted the Polish guests at the MoD.
At the meeting the sides discussed prospects of future cooperation in defence sphere between Poland and Georgia, as well as importance of implementation the Substantial Package Georgia granted at NATO Summit in Wales. Robert Kupiecki pledged full support to Defence Minister on its path to the NATO membership. It was outlined at the meeting that Poland will assist Georgia in implementation of the new cooperation package with NATO. Regional security issue was also one of the main topics at the meeting.
Following Deputy Defence Ministers of Georgia and Poland Mikheil Darchiashvili and Robert Kupiecki held extensive meeting. The sides discussed current bilateral cooperation and deepening future relations in defence sphere between Georgia and Poland. The Polish side pledged full support to Georgia in developing process of Special Operation Forces and Military Police of Georgia.
The sides also referred to the details of the upcoming visit of Defence Minister of Poland Tomasz Siemoniak to Georgia. Tomasz Siemoniak's official visit to Georgia is scheduled to be held this year.
At the end of the meeting, on behalf of National Defence Minister of Poland, Robert Kupiecki rewarded his Georgian counterpart Mikheil Darchiashvili with golden medal of the Polish Armed Forces for his contribution in deepening cooperation between Poland and Georgia. On the other hand, Mikheil Darchiashvili also gave his Polish guest the MoD service medal "General Mazniashvili" for his role in developing military cooperation between Georgia and Poland.