Training for Incident Response Management
Thursday, October 16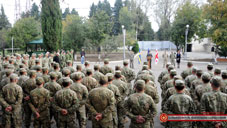 Training on incident response management has launched at engineering brigade of the GAF. The representatives of the Engineering Battalion of the Swedish Kingdom will train the Georgian colleagues in humanitarian demining.
Three-week course on incident response management includes theoretical and practical exercises. Within the training, 12 military servicemen will learn the types of ammunitions and explosives of various countries and the ways of their destruction.
The training is carried out within the NATO/PfP Trust Fund project "Georgia IV" under the support of the Swedish Kingdom.