Abkhazian parliament to turn down Moscow- offered treaty
By Ana Robakidze
Friday, October 17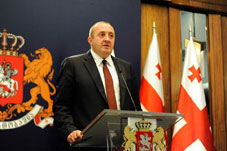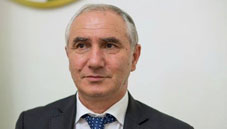 President of Georgia, Giorgi Margvelashvili calls on the parliament and the international community to respond quickly and decisively to the Moscow initiated treaty, which will lead to Abkhazia's incorporation into the Russian Federation if it is approved by the de-facto government of the break-away region.
"Implementation of this kind of document will deteriorate the security situation of the Black Sea basin and the Caucasus region… [and] it is a threat to the defense of Georgia. In the case the treaty is implemented, it will deteriorate the humanitarian situation and protection of human rights. A real danger threatens Abkhazia's future as an integral part of Georgia," the president said at a special briefing held on October 16.
Margvelashvili addressed the parliament and asked Georgian MPs to discuss the issue and prepare remarks as soon as possible.
"Based on parliament's position, the National Security Council meeting will be arranged to plan further steps for stabilization," the president said.
October 26, is the deadline for Abkhazia' parliament to ratify the treaty, but the parliament will most probably turn down the document, which offers setting-up a joint Russian-Abkhaz defense and law-enforcement system and Abkhazia's further integration into Russia's economic and social system.
Members of the de-facto parliament agree that it is essential to sign a similar document with Russia, but the offered draft is absolutely unacceptable for them.
"We all understand that integration with Russia is necessary and that Russia is a strategic partner. However, this does not mean that Abkhazia has to lose its sovereignty," Valery Bganba, Chairman of Abkhazian de-facto Parliament said in one of his recent radio interviews.
Abkhazian MP Akhra Bjania, says Russia is interfering in Abkhazian education, culture and even language issues, "These are inevitable components of our sovereignty," Bjania said.
The treaty has the full support of Abkhazian President Raul Khajimba. He is openly promoting the treaty within his government and military personnel. Khajimba says the treaty has to be signed, as it is vital for the future of the region.